Sign up!
It's so simple...
All we need is a legitimate email address to send you your password.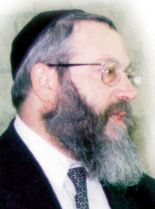 Rabbi Moshe Lazerus
Rabbi Moshe Lazerus is a graduate of Torah Vodaath in New York and has a B.A. from Yeshiva University and an M.S.W. from Columbia University. He has administrated and taught at several Jerusalem yeshivot and seminaries and is concurrently the Director of Judaic Studies for CCIS, a consortium of American colleges for international study. He has authored many articles on scholarship and has written coursework for over 40 college courses. Rabbi Lazerus was a founder and first mayor of the Israeli settlement of Maalei Amos. He is also the director of the Ohr Lagolah Leadership Institute.

Ohr Somayach International
is a 501c3 not-for-profit corporation (
letter on file
) EIN 13-3503155 and your
donation
is tax deductable.