Sign up!
It's so simple...
All we need is a legitimate email address to send you your password.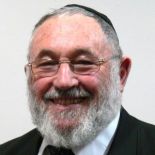 Rabbi Yitzchak Ziskind
Yitzchok Ziskind was formerly a professional architect and town planner. He was a pioneer of outreach in South Africa for 40 years before being invited to join the staff in Ohr Somayach in Jerusalem. After teaching for three years Reb Yitzchok joined the JLE team in London in 2001 and now divides his time between teaching at the JLE in London, and at Ohr Somayach in Jerusalem.

Ohr Somayach International
is a 501c3 not-for-profit corporation (
letter on file
) EIN 13-3503155 and your
donation
is tax deductable.