Sign up!
It's so simple...
All we need is a legitimate email address to send you your password.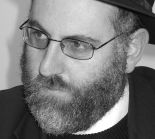 Rabbi Avrohom Connack
Rabbi Avrohom Connack graduated from Wits University, Johannesburg in 1985 with BSc (Hons). After serving as SAUJS chairman in 1985, he learned at Ohr Somayach Jerusalem. After further learning at a number of other yeshivos in Eretz Yisrael he returned to Ohr Somayach to take up a Talmud teaching position. He is currently a senior Talmud Rabbi in the Beis Medrash programme and he has published a series of books (entitled Beurei Avrohom) demonstrating his analytical approach to Talmud study

Ohr Somayach International
is a 501c3 not-for-profit corporation (
letter on file
) EIN 13-3503155 and your
donation
is tax deductable.