Sign up!
It's so simple...
All we need is a legitimate email address to send you your password.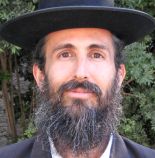 Rabbi Yirmiyahu Ullman
Rabbi Yirmiyahu Ullman studied Literature and Chemistry at Harvard University, later graduating from Williams College where he majored in History and the Sciences. After receiving his rabbinical ordination in Jerusalem, he published a 600-page halachic work titled "Iyunei Deah" that is studied by many aspiring rabbis preparing for semicha in Yoreh Deah. He teaches at Ohr Somayach's Jerusalem campus where he lectures on a variety of topics in Jewish thought and writes the "Ask the Rabbi" column for the Yeshiva's website and Ohrnet publication. He has published articles in numerous Jewish magazines and journals, and lectures for a variety of kiruv organizations worldwide.

Ohr Somayach International
is a 501c3 not-for-profit corporation (
letter on file
) EIN 13-3503155 and your
donation
is tax deductable.