Sign up!
It's so simple...
All we need is a legitimate email address to send you your password.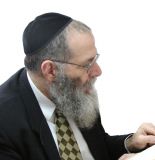 Rabbi Mordechai Perlman
Rabbi Mordechai Perlman, shlita, is a graduate of the Mir Yeshiva in Jerusalem. Rabbi Perlman is a senior lecturer in Talmud, Chumash and Jewish law at the central campus of Ohr Somayach. His series on the Torah portion of the week offers the listener profound insights in Chumash. He also has recorded a series of popular traditional songs and "How to" tapes covering the full Jewish cycle.

Ohr Somayach International
is a 501c3 not-for-profit corporation (
letter on file
) EIN 13-3503155 and your
donation
is tax deductable.