Sign up!
It's so simple...
All we need is a legitimate email address to send you your password.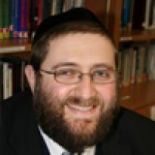 Rabbi Reuven Stepsky
Born in London, Rabbi Stepsky attended Hasmonean School and worked for Salomon Brothers as a Commodity Broker. He studied for six years in Sunderland and Jerusalem before receiving Rabbinical ordination. Rabbi Stepsky has been involved with the JLE in London for over 10 years and currently is Director of Education.
Ohr Somayach International
is a 501c3 not-for-profit corporation (
letter on file
) EIN 13-3503155 and your
donation
is tax deductable.