Sign up!
It's so simple...
All we need is a legitimate email address to send you your password.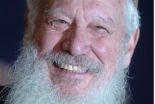 Professor Yisroel Aumann
Robert John Aumann (born June 8, 1930) is an Israeli-American mathematician and a member of the United States National Academy of Sciences. He is a professor at the Center for the Study of Rationality in the Hebrew University of Jerusalem in Israel. He also holds a visiting position at Stony Brook University and is one of the founding members of the Stony Brook Center for Game Theory. Aumann received the Nobel Memorial Prize in Economic Sciences in 2005 for his work on conflict and cooperation through game-theory analysis. He shared the prize with Thomas Schelling.

Ohr Somayach International
is a 501c3 not-for-profit corporation (
letter on file
) EIN 13-3503155 and your
donation
is tax deductable.