Sign up!
It's so simple...
All we need is a legitimate email address to send you your password.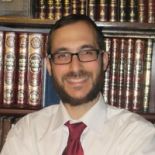 Rabbi Binyomin Weiner
Rabbi Binyomin Weiner, a native of the suburbs of Detroit Michigan, has been the director of the jInternship program for over 3 years. Furthermore, Rabbi Weiner has been teaching the introductory Talmud class in Ohr Somayach's Mechina program for almost 6 years. Rabbi Weiner received rabbinical ordination from the Jerusalem Kollel, under the auspices of HaRav Yitzchak Berkowitz. In addition, Rabbi Weiner earned a bachelor's degree in psychology from Wayne State University in Detroit, and a master's degree in clinical sociology (with an emphasis on marriage & family therapy) from the University of North Texas.

Ohr Somayach International
is a 501c3 not-for-profit corporation (
letter on file
) EIN 13-3503155 and your
donation
is tax deductable.